Discover how Kenneth can show you the way to be a Changemaker of the New Economy
This blueprint will show you how to live your life with passion, pursue your purpose and make profit doing the things that you love!
MEET KENNETH CHOO

Kenneth Choo is a happily married father of one. He has written and published the book 'Mother Industrialist: The Ultimate Guide for Female Entrepreneurs' to help empower women in business, while also being an active speaker on topics such as mompreneurship and work-life balance.
His podcast Mompreneur Space Pod serves as an intimate conversation with female entrepreneurs from different backgrounds who share their stories, challenges, insights and advice on how they have managed to overcome these obstacles in their entrepreneurial journey.
He founded KC Creative Marketing Pte Ltd in 2017, which aims at helping businesses grow through strategic digital marketing consultancy services that are tailored to meet clients' needs strategically and to help small business owners succeed online.
A championing male ally, he helps women by being an active supporter and promoter of gender harmony through Women Empowerment Events like Mompreneurship Workshop and Women Changemakers Summit.
Mother Industrialist

Mother Industrialist helps busy moms find the perfect balance between motherhood and business success. This guide will motivate you and show you how to empower yourself through entrepreneurship that will allow you to live life on your own terms. Meet fifteen successful mompreneurs in these pages and learn from their inspiring journeys.
LEARN HOW TO...
Finally, spend more time with your family and children without worrying about to-do lists and money. You do not need to seek approval from your boss or superior to tend to your children.
In this book, discover how to kick-start your entrepreneurial journey without leaving your current job. Put the three P's to work for you to create the most suitable platform to start your own successful entrepreneurship.
UNCOVER IN THESE PAGES...
Gain and maintain the perfect balance between motherhood and business so you can spend more time with your loved ones without worrying about to-do lists and money.
Finding your passion, purpose, and profit (the three P's) so you can kick-start your entrepreneurial journey, working only part-time.
Learn from inspiring mompreneurs who have found success in business and at home.
Build a business that can generate passive income for you.
What are the twelve attributes of being a mompreneur?
Discover how to start pursuing your dreams even during early motherhood.
Get out of the rat race.
Rely on entrepreneurship to give you more time with your children.
Every single mother deserves to be an entrepreneur.
Find out why mommies make the best entrepreneurs.
Discover how you can use your passion to start a business.
Use the power of the internet, the best platform for mothers to start any business.
Change your children's future for the better.
"5 Steps To Prepare Yourself For Running A Business After Motherhood" Guidebook
Like any journey, launching a business is not easy. It can be overwhelming from coming up with the initial idea to designing your brand and making sure you have enough inventory for launch day - there are so many things that need done! But as if it's not hard enough being constantly busy juggling work and family life (no office hours!), I've created this digital guidebook to help provide guidance through the process of preparing for launch in just 5 steps.
Digital Marketing Checklist

This is the ultimate digital marketing checklist. It includes 5 sections with 21 points that cover all of your digital marketing needs, from planning and strategy to design. Use it to keep track of what you've done so you can re-adjust as needed and measure success on each area!
"One of the stubbling block to growth is lack of clarity. Sometimes, you need someone to point out to you what may seem obvious but it is not. Talking about it with Kenneth has open up that blindspot. I really appreciate the clarity call as I now am more clear with my steps I need to do next. Thanks Kenneth."

Raymund Pang

Author, Speaker, Coach

"Kenneth is very self-driven and has a positive mindset. He has a great passion for entrepreneurship and helping moms to pursue their dreams. Not easy for a man to do so and I am very glad that he has the determination! He advocates mompreneurs and kidpreneurs by creating collaborations, webinars, and opportunities for them to build their dreams into reality. I highly recommend this movement to grow rapidly in this new era and endemic environment."

Jenny Lee

Founder & CEO at The Ladies Cue & Clover Enterprise Pte. Ltd.

"Kenneth is the heart, in the course because he listens to our challenges and he make time to hear our struggles that is not business / course related. He listens actively and gets you to refocus on the bigger picture than the issue itself. He desires the best for us. He has guided me, encouraged me and pushed me to realise I can be who I chose to be. I am better because of his guidance and patience. I wouldn't be where I am today without his championing spirit for women! Thanks Kenneth for believing in us, women, that we can be more! "

Corina Tennakoon

Author, International Speaker, Trainer, Coach

"I have had the pleasure of presenting at events with Kenneth and I can truly say he is a man true to his word. He is devoted to elevating the career of women as well as giving us the warmth and wisdom of the make perspective. Kenneth is generous with his knowledge and seeks out ways to give his feminine counterparts opportunities to speak and advocate for themselves. He's a delight to work with and I highly recommend him as a role model to everyone. "

Melissa Perkins

EdTech Visionary and Maker of Global Master Students.
Women are the new leaders of a changing world
Women are the new leaders of a changing world.
Across time and space, women have always been changemakers in their own way - shaping communities to suit what they need from them and helping those around them do better with access to education or jobs. Now more than ever that drive is being recognized by an increasingly diverse group as we reach out into for solutions both domestically (from state legislatures)
Women are not just sitting back anymore letting things happen without input but in…
Top 11 Trends of 2022 - The rise of the Metaverse
We are on the brink of a new era. In 2022, we will see the rise of the Metaverse – a digital world that sits on top of our physical one. This virtual reality will change the way we live and work, and it is going to take off in a big way.
Here are 11 trends that will shape the Metaverse in 2022!
The rise of VR and AR: Virtual reality (VR) and augmented reality (AR) are already making waves, and the Metaverse will only accelerate their growth. By 2022, nearly every industry will be using VR …
Build a Web Services Online Business in 2022: Dropservicing Strategy
If you're looking to build an online business in 2022, drop servicing is the best way to go. It's a great strategy for web service providers who want to stay lean and make more money by outsourcing their work to freelancers. Dropservicing will allow web service providers (WSP) like yourself to manage projects better and offer higher-quality web services because they won't be bogged down with customer support or marketing overhead. Read on if you want to learn how!
1. What Dropservicing is a…
Do you know why Kenneth Choo is championing women?
I am an author and entrepreneur who believes in empowering mothers.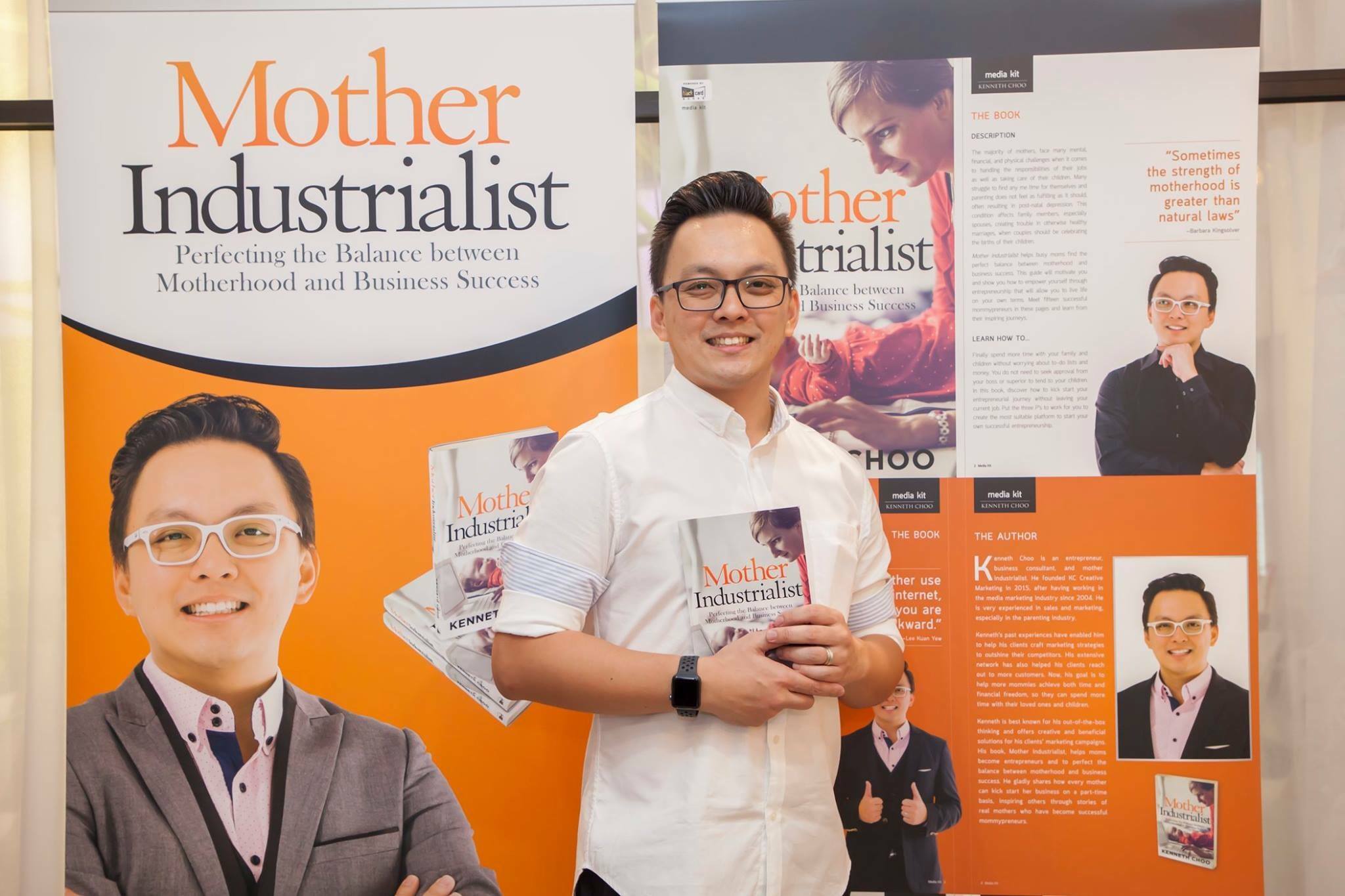 I have to bring everyone back to 14 years ago where I was working as an Advertising Sales Executive for a parenting magazine, Motherhood Magazine. Back then I was a new dad as my daughter, Denyse was born. A lot of my clients are mothers. Most of them started because they wanted to spend more time with their children and some of them felt that working for people does not work for them so that is why they decided to do somethi…
3 Things You Need to Be a Changemaker
Are you looking for ways to make the world better? Are you an entrepreneur? If so, here are some pointers on how you can become the best! Check out this article to learn about how you can become a changemaker. Learn what it takes, and get inspired!
LISTEN TO THE LATEST MOMPRENEUR SPACE LIVE SHOW PODCAST



FOLLOW KENNETH CHOO ON SOCIAL MEDIA
Discover how Kenneth can show you the way to be a Changemaker of the New Economy
This blueprint will show you how to live your life with passion, pursue your purpose and make profit doing the things that you love!